You are here:

> Trogir > THINGS TO DO > Towns > Omis
Omis
GEOGRAPHICAL POSITION

Omis is a town and port in the Dalmatia region of Croatia, and is a municipality in the Split-Dalmatia country. The town is situated approximately 25 km south-east of croatia's second largest city, Split. Its location is where the emerald-green Cetina River meets the Adriatic sea.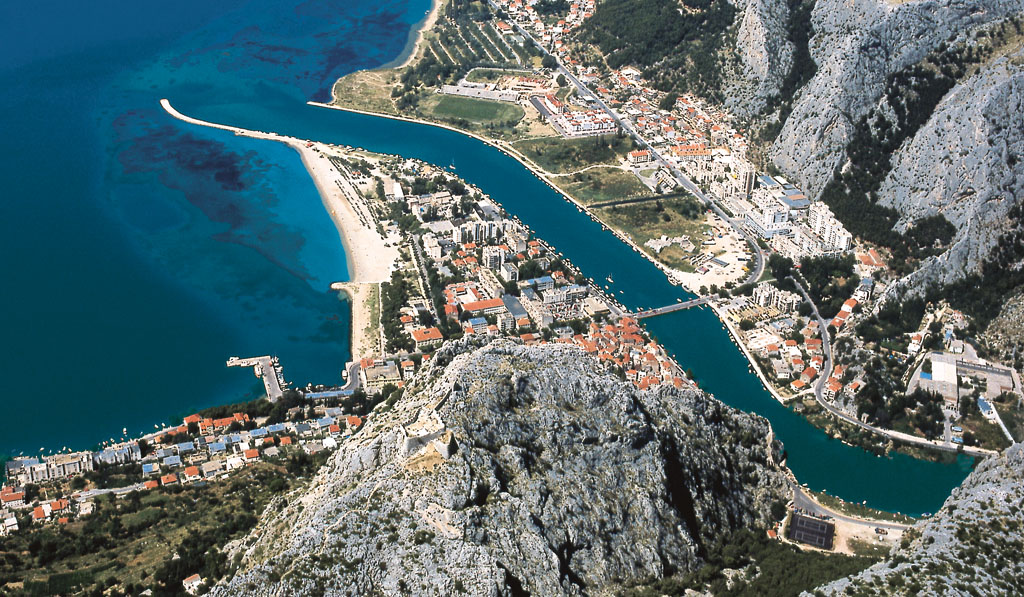 HISTORICAL MONUMENTS
It is supposed that name of this city, Omis, developed from Slavic Holm, Hum as translation from Illyrian - Greek word Onaion, Oneon, in meaning "hill" or "place on the hill", but there is also possibility that name of the settlement Onaeum was derived from the name of river which was called Nestos by the Greek colonists in its lower flow, during Antiquity. Latin names during Ancient Rome wewrw Onaeum, Oeneum, Alminium and Almissum, durin Medieval name was recorded as Olmissium, Almiyssium and from the end of the 15th century, when the city fell to authority of Venetian Republic it was Italian: Almissa.
Omis was well known in the past by the Corsairs of Almissa whose Sagittas (ships), brought fame to them because they were built for attack and fast retrieval into the mouth of the Cetina River, protecting the town from foreign invaders. At a very early date, neighbours of the Corsairs of Almissa, the highlanders of the Poljica Principality, became their friends and allies. This allowed them to harass the seaborne trade, without fear of a sudden attack from inland. The evidences of proud and turbulent Omis history can be found on every corner of the Omis Riviera. Ancient town of Omis, Omis churches and Omis fortresses are silent stone reminders of the power and the might of famous Omis corsairs.

Church of St. Mihovil is one of the Omis's most important architectural heritage. It is a combination of Gothic, Renaissance and Baroque styles, while portal, as one of the most interesting art achievements in Dalmatia in that time is an expression of folk mannerism.

Omis museum is situated in the historical town center. The Town Museum houses a collection of artifacts from Omis history, an archeological collection and the Poljicki Constitution.

Fortresses Mirabella or Peovica is a Romanesque fortress, built in 13th century above the town of Omis. Mirabela was a reliable hideout for the Omis pirates who used to retreat into the safety of the Cetina gorge. Legend says that in 1537, during an attack by the Turks, the defenders of Omis confused the attackers with their shouting and shots so much that the Turks overestimated the number of defenders and fled.
LEISURE TIME
Omis is an ideal place to plan your sporting preferences, whether it be diving, rafting or kayaking (on still-water or rapids), hiking, rock-climbing, this former refuge of pirates and buccaneers offers all of this on a background of exquisite natural beauty.

Rafting on Cetina river -as a combination of adventure, sport and fun, has reached its top success just here, in Omis. Cetina River and its canyon of magnificent beauty give you an unforgettable experience, justifying epithet of town Omis, as the best place for rafting, either for the beginners or for the experts and old fans.

Omis is literally filled with restaurants, wine-cellars and caffe bars. Mediterranean cuisine, with it's olive oil, fish and sea food, home-grown vegetables, wine, and it's thousands year tradition will surelly help you experience the true spirit of the Mediterranean. Omis Cultural Summer, Festival of Dalmatian Klapas, Pirates Nights and many other musical, theatrical and gastronomical social events make Omis perfect place to experience not only the beauty of Dalmatia, but also beauty of it's soul.